Since 1992, Our Manufacturer's Representatives and Staff have maintained a focused market presence in Electronics Manufacturing within New York State.
Locally based with global reach, our team is driven to provide exceptional value to our clients using our experience and vision for the future.
Specializing in:
Interconnect
Passive components
Electromechanical components
Our synergistic product offering covers a wide range of applications including fully engineered custom solutions.
Markets We Serve
Military / Aerospace
Audio / Broadcast
Communication / RF
HVAC / Industrial
Contract Manufacturing
Medical / Instrumentation
Test & Measurement
MRO
Transportation
University / R&D
Jim Gleason Owner and Managing Partner FJM With so many ERA members, it's not easy to get to know every rep and manufacturer in the business. "Someone You Should Know" is The Representor department that gives readers the chance to learn about fellow ERA...
The next FREE ERA Teleforums in 2016 are: May 24 • July 28 • Sept. 26 • Dec. 1 Registration will open soon. Tuesday, May 24, 2016 3 p.m. Eastern • 2 p.m. Central • 1 p.m. Mountain • Noon Pacific TOPIC: Planning the Most Effective Buddy Calls Presenter: Nicki Weiss of...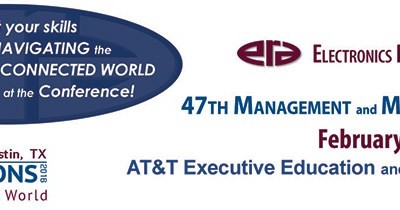 February 28th – March 1st
AT&T Executive Education and Conference Center
Austin, TX
Now's the time to boost your skills in NAVIGATING THE CONNECTED WORLD at the ERA Conference, the only educational event in the electronics industry focused exclusively on the outsourced field sales function.